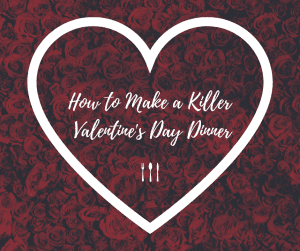 Valentine's Day is right around the corner, and you want to wow your date by skipping the overrated restaurant reservations and cooking her a delicious dinner at home. You've made an excellent choice—but now what?
We're here to help you make a killer Valentine's Day dinner this year. Here's how:
Choose the perfect recipe
Lobster is a romantic classic. We recommend this recipe for Croatian lobster pasta to impress your Valentine.
Don't go overboard
Some guys think they need to whip up a whole smorgasbord of dishes to impress their dates. Wrong! You'll stress yourself out spending all day in the kitchen and won't actually get to enjoy the evening. Focus on a show-stopping main course, like the lobster pasta above, and serve it with a simple salad as a starter and chocolate-covered strawberries for dessert.
Set the mood
Small details will show her how thoughtful you are. A table set with fresh flowers, a special playlist and candlelight will create the perfect V-Day ambiance.
Do your prep work in advance
Nothing kills the mood faster than having her sit by herself at the table while you're in the kitchen. Make sure to read all recipes in advance so you know exactly how much cook time you'll need and do as much prep work as possible before she arrives.
Thinking of serving some delicious Maine lobster to your Valentine this year? Make sure to order in advance from Cape Porpoise Lobster Co. We offer free overnight shipping for all orders of our lobster and other seafood delights. Call 1-800-967-4268 to order your Valentine's Day lobster today!