With the colder weather upon us, this is the perfect time of year for warm and hearty meals. If you love seafood, there are some incredible lobster recipes for the crock pot and slow cooker to try out!
Buttery crock pot lobster roll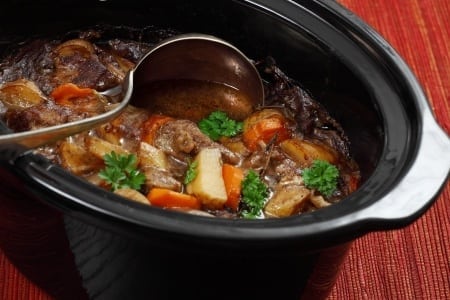 Lobster rolls are a New England summertime staple, but this recipe proves they are perfect for fall and winter too! This easy recipe is delicious and flavorful with rich buttery flavor. With a small ingredient list of 4 lobster tails, 4 hot dog buns, 1 ½ stick butter, 1 lemon, 1 clove of garlic and a quick 30 minute cook time, this low-maintenance recipe is perfect for spicing up family dinners.
Slow cooker lobster risotto
Lobster and risotto is a winning combination in the slow cooker, as the long cook time makes the risotto nice and creamy and the lobster meat perfectly tender. Corn, tomato, chicken stock and herbs add a nice savory flavor to the dish. Serve the risotto in small portions as an appetizer, or make it a one-dish meal by serving with salad and artisan bread.
Slow cooker lobster chowder
Try a traditional creamy chowder loaded with lobster, potatoes and savory spices for the perfect hearty soup dish on a cold day. Load up your slow cooker with all the ingredients in the morning, let it cook throughout the day and enjoy a delicious dinner!
Of course, these dishes need high-quality lobster to really satisfy. Here at Cape Porpoise Lobster Company we catch the best Maine lobster and deliver it right to your door. Shop our online store today to find just what you need to make the perfect lobster recipe!