Whether you're cheering for Josh Allen or applauding every move Bill Belichick makes, Sundays are for football. But as you're watching the game, you need to make sure your stomach stays satisfied as well. Football parties are often full of the standard snacks: chicken wings, mozzarella sticks, potato skins, chips and dip, etc. So, why not switch it up this year?
Serve seafood at your big football party to give guests a chance to sample some "out of the ordinary snacks" that might be good enough to pull them away from the television.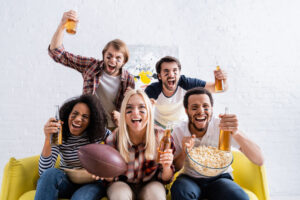 Lobster Sliders
Lobster is a great go-to when it comes to seafood. There are many ways to prepare and serve lobster, but for a football party, the best way is the un-conventional form: lobster sliders. Mimicking a hamburger, you can serve up these sliders on toasted rolls with a mix of lobster, mayonnaise, pickle, celery, tarragon, and lemon zest. You just have to refrigerate the mix for one hour and place it onto the roll
Shrimp Dip
Dips are the ultimate convenient food for parties that are constantly a big hit. When you want your guests to enjoy the game and not be interrupted by hard-to-eat foods, serve a shrimp dip. We suggest this great spicy buffalo shrimp dip that pairs up well with tortilla chips for a simple and savory snack.
Artichoke and Crab Dip
A common football snack is spinach and artichoke dip, but crab meat actually compliments artichoke better. That's right, you can make a crab and artichoke dip alternative. It is a very easy dip that can be served warm in a bread bowl. (Few things are better than a bread bowl) The ingredient list is pretty long, but you'll have most of them in the kitchen already. All you do is mix them together, heat it up, and fill the bread bowl with them.
BBQ Shrimp
Many people don't eat shrimp unless it's a "special occasion," and the big game certainly is one. BBQ sauce can spice up just about anything and shrimp is at the top of the list. Serve BBQ shrimp dip as an easy finger food appetizer that is filling and requires minimal preparation. You'll need shrimp, Worcestershire sauce, lemon juice, and a few kitchen staples.
Make sure you purchase quality seafood to prepare your appetizers in time for the big game. Cape Porpoise Lobster Co. is the best of the best when it comes to quality seafood.