Here at Cape Porpoise, we love our fresh Maine lobsters, but we can't forget the other delicious seafood we have. From our jumbo white shrimp to Maine blue mussels, we have all your needs for fresh seafood. To inspire your culinary skills, we have included some great, easy-to-prepare, recipes you can make using our fresh Maine seafood!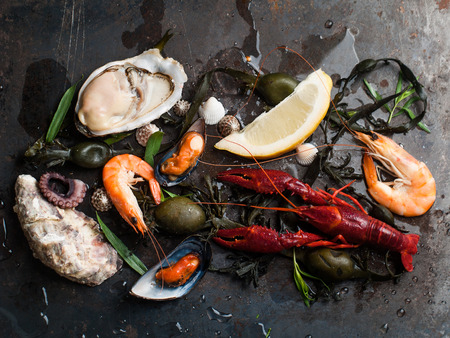 Jumbo Shrimp with Mushrooms and Garlic
Ingredients
4 garlic cloves, thinly sliced
1/4 cup plus 2 tablespoons pure olive oil
1/2 pound shiitake mushrooms, stems discarded and caps thickly sliced
Salt and freshly ground pepper
1/4 cup water
1 cup coarsely chopped cilantro leaves
2 tablespoons unsalted butter
Yellow rice and lime wedges, for serving
Step 1    
In a large skillet, cook the garlic in the olive oil over moderate heat until lightly browned and fragrant, about 1 minute. Using a slotted spoon, transfer the garlic to a plate. Add the mushrooms to the skillet and cook over high heat, stirring occasionally, until browned, about 7 minutes.
Step 2    
Season the shrimp with salt and pepper and add them to the skillet. Cook over high heat, stirring occasionally, until nearly cooked through, 7 to 8 minutes. Add the water and cook just until evaporated. Add the cilantro leaves and butter to the skillet and stir to coat. Transfer the shrimp and mushrooms to a platter and garnish with the sliced garlic. Serve the shrimp with yellow rice and lime wedges.
Recipe from Food and Wine
Lemon Butter Scallops 
Ingredients:
1 tablespoon unsalted butter
Kosher salt and freshly ground black pepper, to taste
For the lemon butter sauce
2 tablespoons unsalted butter
2 cloves garlic, minced
Juice of 1 lemon
Kosher salt and freshly ground black pepper, to taste
2 tablespoons chopped fresh parsley leaves
Directions:
Melt 1 tablespoon butter in a large skillet over medium high heat.
Remove the small side muscle from the scallops, rinse with cold water and thoroughly pat dry.
Season scallops with salt and pepper, to taste. Working in batches, add scallops to the skillet in a single layer and cook, flipping once, until golden brown and translucent in the center, about 1-2 minutes per side. Set aside and keep warm.
To make the lemon butter sauce, melt 2 tablespoons butter in the skillet. Add garlic and cook, stirring frequently, until fragrant, about 1 minute. Stir in lemon juice; season with salt and pepper, to taste.
Serve scallops immediately with lemon butter sauce, garnished with parsley, if desired.
Recipe from Damn Delicious
Grilled Soy Brown Sugar Salmon in Foil
Ingredients
1/4 cup brown sugar
1/4 cup olive oil
1/4 cup soy sauce
1/4 cup lemon juice
1 teaspoon freshly ground black pepper
3 cloves garlic, minced
1/2 teaspoon kosher salt
Parsley, chopped for garnish
Lemon wedges
Instructions
Combine all marinade ingredients in a small bowl.  Place the salmon in a large zip-tight bag or shallow glass baking dish and add the marinade, turning to coat the fish entirely.  Seal tightly or cover with plastic wrap and marinate in the refrigerator for 1-3 hours.
Preheat grill to medium-high heat.  Take a large piece of heavy-duty aluminum foil and remove the salmon from the marinade, laying it skin side down in the center of the piece of foil.  Fold the long sides up and then over themselves, repeating with the short sides, to create a sealed packet containing the salmon.
Transfer the foil-wrapped salmon to the hot grill over indirect heat not directly over the flames and close the grill lid. Cook for 15-18 minutes until almost entirely cooked through.  Brush the grill grates directly over the flames with a little oil, then carefully open the foil packet and using one of the long edges of the foil, and flip the salmon directly onto the grill grates over direct heat to char the top. Grill just until cooked through, and grill marks appear (1-2 minutes) being careful not to overcook, the use two large spatulas to remove the salmon from the grill.
Transfer to a serving platter and garnish with chopped parsley and lemon wedges before serving.
Recipe from Epicurious
Remember to check our blog for more easy-to-follow seafood recipes