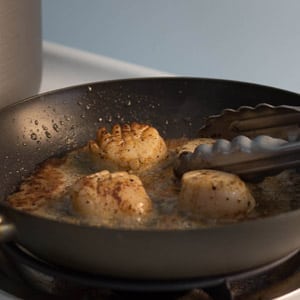 From grilling to broiling and pan searing to deep frying, there are plenty of ways to cook your fresh sea scallops.
The easiest way to sear your scallops to perfection? On the stove top!
---
How to Prepare Sea Scallops
Before you begin cooking, there are a few preparatory steps you will need to take to ensure the best possible flavor.
If ordered frozen, thaw your scallops overnight or quickly defrost them using a microwave.
Rinse and dry scallops.
If desired; cut scallops in half to create smaller portions.
Once you finish these simple, initial preparation steps, you are ready to start cooking.
---
How to Cook Scallops on a Stove Top
Cooking scallops on a stove top is the quickest and easiest way.  We recommend a heavy pan, made of either cast iron or stainless steel for best results.
Heat pan on medium-high heat, melting 2 tablespoons of oil.
The best oils for cooking scallops include canola, soybean and peanut.
For some extra flavor and texture, you can create a thin crust by dusting the scallops in flour.
Use about 3 tablespoons of flour per pound of scallops, lightly coating them in it before placing them in the pan.
Place the scallops in the pan and cook them for about 6 minutes, flipping half-way through.
---
Now that you're ready to prepare your meal, visit us online or call us at 1-800-967-4268 to place your order for fresh Atlantic sea scallops.