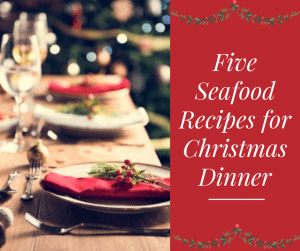 This Christmas, why not wow your guests by skipping last year's ham or turkey and serving a delicious seafood dinner instead?
Here are some of our favorite seafood recipes for Christmas dinner:
Broiled lobster tails with garlic-chili butter
Your Christmas guests will feel like they're eating in a fancy restaurant with this seafood entrée. Buttery and indulgent yet tender and delicate, we guarantee this dish will be a new holiday favorite.
Seared scallops and baby spinach with spiced pomegranate glaze
Scallops get a Christmas spin with this recipe. The cinnamon-spiced pomegranate glaze will fill your kitchen with holiday aromas.
Butter and herb baked oysters
Looking for a simple, elegant Christmas appetizer? Look no further than this easy recipe. Top the oysters with bread crumbs for a sophisticated touch.
Lobster bisque
Once everyone is seated for Christmas dinner, wow them with this aromatic starter. Serve it with crusty bread on the side so guests can savor every drop. To save yourself time, you can also get our pre-made lobster bisque. It is as simple as heat and serve. A great option for the busy holiday season.
Cioppino
Seafood lovers will go wild for this entrée—an Italian fisherman's stew with various kinds of fish and seafood. Bonus: the recipe calls for preparing the dish in a slow cooker, freeing up valuable stovetop space!
If you're planning to put any of these delightful dishes on your Christmas table, you'll need the best-quality seafood you can find. Check out Cape Porpoise Lobster Co. for delectable lobster, fresh Atlantic Sea scallops, crab and other seafood delicacies that can be at your door in under 24 hours. Got a crowd coming to celebrate? We offer fantastic prices on wholesale lobster orders. Call 1-800-967-4268 to place your order today!