Although lobster is an enjoyable delicacy for many, the process of eating one can be less than favorable, especially if you don't know how! Even if someone has enjoyed lobster, it doesn't always mean the process went smoothly.
Many people haphazardly work their way through eating a lobster, which can take away from the enjoyment of the occasion and leave delicious meat behind. Here is a quick rundown of how to properly eat a lobster, from start to finish.
Here are a few tips to help your lobster eating experience go a smoothly as possible: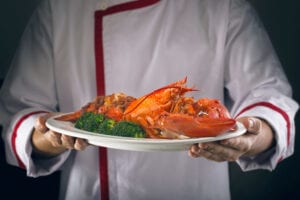 Start with the right tools
You'll need lobster shears to break open the hard shell and a lobster pick to fish out the meat from hard to reach places. If you have a problem wearing a bib as a grown adult, you're going to have to get over it. Eating a whole lobster can be a messy task no matter how you go about it, especially if you're dipping it in butter. Strap on that bib, tools in hand, and get ready to dig in.
Begin with the claws
Pull and twist to remove them from the body of the lobster, then dig the small amount of meat out of the arms with your lobster pick and eat it. Then, snap the claw in two at the joint. There should be some meat to enjoy in the smaller part, but much more in the larger one. Fish it out and enjoy it.
Then tackle the small legs on the sides of the lobster
They should pull off easily, and you can loosen the meat with a pick before sucking it out of the open end. While the amount of meat in the legs will be small, it's especially delicious.
Finally, bend the tail back and break it off the body of the lobster
You've reached the gold mine of lobster meat. You should be able to pull it out of the tail in one big piece, which you can cut into smaller portions if you wish. Cut into the body of the lobster with your shears and remove any additional bits of meat inside.
This is the point where experienced lobster eaters set themselves from the pack by eating the less visually appealing, yet delicious gray substance that constitutes the lobster's liver.
This is also known as the tomalley. Some people even like to eat the small red eggs found in the body of female lobsters.
Eating lobster is a ritualistic experience that can be as fun as it is delicious. To order the freshest live Maine lobster directly to your home, visit the Cape Porpoise Lobster Co and get cracking