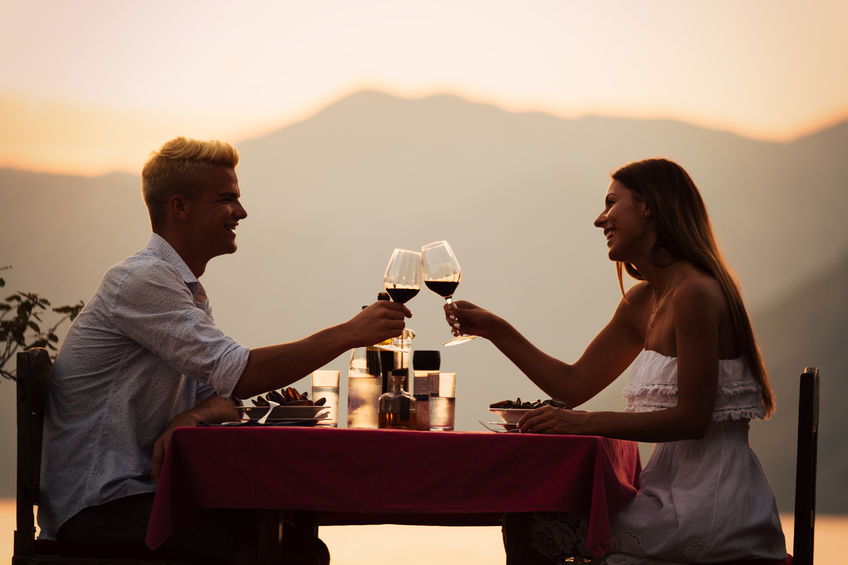 Many couples go out to their favorite restaurant for Valentine's Day. While this is certainly a wonderful option, nothing truly beats a home-cooked meal made together with your beloved partner.
Lobster (or other types of seafood, for that matter) is the perfect dish for your home-cooked Valentine's Day dinner. But with so many lobster recipes to choose from, it can be hard to pick the right one. That's why we've selected our top five favorite recipes below:
Table of Contents
Lobster Risotto
Delicious yet easy to cook, lobster risotto is perfect for amateur cooks who want to impress their dates.
Ingredients
One stalk of celery
Two yellow onions, peeled and chopped
Olive oil
8 cups seafood stock
Butter
Leeks, chopped
2 cups Arborio rice
½ cup white wine
Parmigiano-Reggiano cheese, to taste
Salt & pepper, to taste
Instructions
Start by chopping up a stalk of celery and a peeled yellow onion. Place them in a large saucepan with two tablespoons of olive oil. Cook over medium heat until the onions are translucent, about 3-4 minutes.
Add 8 cups of seafood stock and 4 lobster tails. Bring to a boil and let simmer for 10-12 minutes.
Remove the lobster tails and let cool before chopping the meat. Strain the stock and put it back into the saucepan. Place to side.
In another saucepan, heat up some butter and olive oil over medium-high heat until the better is melted. Peel and chop another yellow onion and some leeks and cook until soft, about 5 minutes.
Add two cups of Arborio rice and stir to coat before adding in a half cup of white wine. Allow to cook and absorb, about 2 minutes.
Returning to the lobster stock, add one cup of your risotto at a time, allowing it to absorb for about 2 minutes. After 20 minutes, add your Parmigiano-Reggiano cheese, salt, and pepper, to taste.
Add in the chopped lobster meat and cook for another 2 minutes. Divide into bowls and serve.
Lobster Pasta with Herbed Cream Sauce
This dish will make your mouth water! It's also incredibly simple to make, almost fool proof.
Ingredients
1 ½ Lbs cooked fettucine
2 chopped tomatoes
1/4 cup tomato paste
3 tablespoon olive oil
2 tablespoons white wine vinegar
2 garlic cloves
2 tablespoons tarragon
Instructions
Cool and coarsely chop cooked lobster meat.
Heat olive oil to paste and sauté 3 mins.
Stir in tomato, wine, vinegar, garlic, tarragon, thyme and parsley.
Boil 2 mins, reduce heat and simmer 20 mins.
Add chopped lobster meat.
Serve on bed of pasta and season with salt & pepper.
Traditional Cocktail Sauce
Great as an appetizer or for hors d'oeuvres, shrimp and cocktail sauce is a simple yet gourmet dish to make.
Ingredients
1 ½ cups ketchup
¼ cup finely grated raw horseradish
½ teaspoon freshly squeezed lemon juice
¼ teaspoon freshly ground black pepper
½ teaspoon tabasco
Instructions
Combine all ingredients in a small bowl, mixing well.
Chill in refrigerator and serve.
Restaurant-Style Crab Cake
If you'd like something that tastes just like it does in a restaurant, then try our restaurant-style crab cake recipe.
Ingredients:
1 egg
1 tablespoon Worcestershire sauce
1 tablespoon mayonnaise
1 teaspoon lemon juice
1 teaspoon Old Bay Seafood Seasoning
1/8 teaspoon dry mustard
2 teaspoon mustard
1 teaspoon melted butter
½ teaspoon parsley flakes
¼ cup breadcrumbs
Instructions
Preheat oven to 375°F
Combine all ingredients except for crab meat in a large mixing bowl.
Fold in the crab meat without breaking up crabmeat lumps.
Shape into cakes and place on baking sheet.
Bake 13-16 minutes or until evenly brown on each side.
Bacon Wrapped Lobster Bites
Perfect as appetizers or as the main meal, we guarantee anyone will fall in love with this recipe.
Ingredients:
8 – 10 slices bacon
3 scallions
Black pepper
½ lemon
Maple syrup
Instructions:
Preheat the broiler to high.
Remove lobster meat from the shells. Chop coarsely into 16-20 chunks.
Pair each chunk of lobster with a scallion slice.
Wrap in a piece of bacon and assemble using a toothpick.
Place on a baking tray. Repeat.
Broil for 6 minutes turning once or until bacon begins to crisp.
Remove from oven and arrange on platter.
Drizzle with lemon and maple syrup. Serve. Should make 16-20 lobster bites.
Once you've chosen your recipe, you need the right ingredients to make it perfect. At Cape Porpoise Lobster Co., we have a wide variety of lobster and seafood options. Look through our online shop to get started!