With September just a few weeks away, it's time to start thinking about delicious dinner recipes for your upcoming fall get-togethers! If you are looking for a dish that will wow your seafood loving friends and family members, you've come to the right place. As the seasons change, it is less about grilling, and more about pairing with delectable, seasonal flavors like pumpkin and squash.
Here are some of our favorite fall seafood recipes that we couldn't resist sharing with you.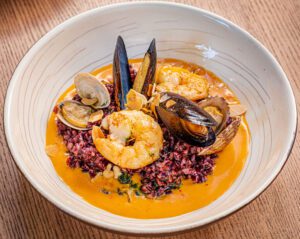 Cinnamon Apricot Glazed Salmon
This recipe is pretty simple, and the salmon is certainly the star of this dish. Paired with some great veggies and it's the perfect dish to make for a family gathering.
Blackened Shrimp with Pomegranate-Orange Salsa
We can almost guarantee that you haven't had shrimp like this before! It is so delicious and unique. And the best part about this recipe is that it serves 12!  Sounds like the perfect amount of shrimp for your upcoming dinner party, doesn't it?
Oyster and Bacon Chowder
As the cool fall weather sets in, there is no better dish than a scrumptious bowl of chowder. Whether you make this for dinner on a cool fall evening or bring it to your college football game to tailgate and share with friends, it is sure to get a lot of compliments.
Honey Glazed Scallops
If you are looking for a dish that doesn't take much time to prepare – but will still wow your guests – scallops are the perfect option for you. With this recipe, you can enjoy melt in your mouth scallops in just 15 minutes. It's perfect for pairing with a bottle of white wine for your next girls' night! T
Baked Lobster Mac and Cheese
We would be doing a disservice to you if we failed to mention this kid-friendly lobster dish. When it comes to fall comfort food, there really is nothing better than a big bowl of mac and cheese; and the addition of lobster meat makes it even more incredible! In about an hour, you will have a dish that serves eight to 10 people; and will be requested at every upcoming party you attend.
Now that you have enough delicious and unique recipe options to last you the whole season, all that's left to do is order your fresh Maine seafood with Cape Porpoise Lobster Co. Place your order online or by calling 1-800-967-4268.
Have a favorite fall seafood recipe that you like to share? Let us and all of our other readers know so we can give it a try!