If you've been looking for a great seafood pasta dish, you're in luck. Our Seafood Arrabbiata, which combines linguine and shellfish, is out of this world. The rich tomatoes and clam juice perfectly compliment the wide variety of scallops, shrimp and clams that you'll find in this dish. The finished product is a delicious entrée fit for a casual night at home or a fancy home-cooked meal.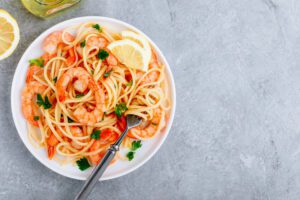 Ingredients:
8 ounces cooked linguine
3 tablespoons olive oil
7 ounces bay scallops
7 ounces cooked medium shrimp
1/2 cup chopped onion
3 minced garlic cloves
3 tablespoons tomato paste
1 can diced tomatoes
1/2 cup clam juice
12 littleneck clams
Instructions:
Heat 2 tablespoons olive oil in skillet
Add bay scallops and shrimp
Cook 3-5 minutes
Turn off heat and cover the mixture
In a separate pan mix together 1 tablespoon olive oil, onion and garlic
Cook 2-4 minutes
Add tomato paste and diced tomatoes
Bring to a boil and let cook for 2-4 minutes
Mix in clam juice and clams
Cover and reduce heat to medium for 5 minutes
When clams are open stir in scallops and shrimp
Serve over warm linguine
Seafood Arrabbiata is only good with the right ingredients. At Cape Porpoise Lobster Co., we offer a wide variety of seafood so you can make the perfect dish. Look through our website or contact us to learn more!