The world is slowly re-opening after a year of COVID-19 lockdowns. That means you can safely gather around the picnic table with your family once more! If you're planning a summer family get-together after a whole year apart, you're going to want mouth-watering dishes to serve.
Below are some of our favorite lobster recipes for your next summer get-together: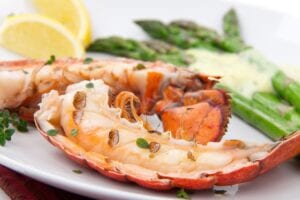 Lobster Dip
We love this recipe because of its rich taste of fresh lobster and cheese with hints of garlic and Sriracha.
Serve it with warm, toasted chunks of bread or crackers and you'll have the perfect d'oeuvre in no time!
If you are headed to a cookout, make this deliciously creamy dip; just be sure to taste a little beforehand because it will go fast once it's out on the appetizer table.
Lobster BLT
A meal that is entirely too easy to make, lobster BLTs make a great lunch for your Labor Day picnic.
Grab a lobster tail, coat the lobster with butter and garlic clove, then cook the lobster for four to five minutes. Now assemble the BLT's and have fun combining the mayo, toast, lettuce, tomato and bacon with your lobster tail.
Lobster Salad
A far cry from the pasta salads that usually appear at summer picnics, lobster salad is a gourmet option that party-goers will love to add to their dinner plates.
The mayonnaise based pasta compliments the lobster meat without overwhelming it, and the lemon flavor adds zest! View the Full Recipe here.
When preparing for these fun summer lobster recipes, make sure you purchase quality seafood. Cape Porpoise Lobster Co. is the best of the best when you are looking for lobster fresh from the coast of Maine. Call us at 1-800-967-4268 to place your order today!