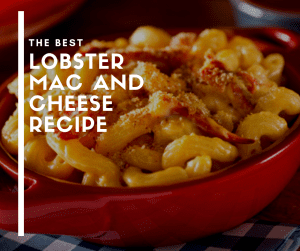 As the lobster lovers we are, the team at Cape Porpoise Lobster Co. believes no gathering is complete without a delectable lobster dish or two. Our blog is filled with an endless number of lobster and seafood recipes just for you, one of our favorites being lobster mac and cheese!
Full of flavor and easy to make in large quantities, lobster mac and cheese is sure to be a crowd-pleaser at any event!
This home-style recipe involves less than 30 minutes spent in the kitchen. With easy-to-follow directions and a full list of ingredients, all you have to do is double, triple or quadruple the recipe and cart it off to your next gathering!
Lobster Mac and Cheese Ingredients
4 tablespoons butter, plus 1 tablespoon for greasing dish
Kosher salt
1 pound penne pasta
2 small shallots, finely chopped
2 cloves garlic, chopped
Freshly ground black pepper
2 tablespoons tomato paste
5 tablespoons all-purpose flour
1/4 cup white wine
4 cups heavy cream
1/2 teaspoon sweet paprika
1/4 teaspoon cayenne pepper
1 bay leaf
2 cups shredded sharp white Cheddar
2 cups shredded Gruyere
2 (8-ounce) raw lobster tails, defrosted if frozen, meat removed from shell, chopped
1/4 cup panko bread crumbs
1/4 cup freshly chopped parsley leaves
Lobster Mac and Cheese Directions
Preheat the oven to 350 degrees and adjust the racks to the middle
Grease a 13 by 9-inch baking dish with butter
Boil a large pot of water over medium heat
Add the pasta and cook until al dente
Drain the pasta and reserve
Add 4 tablespoons of butter to a large pot over medium heat
Once the butter shimmers, add the shallots and garlic and sauté until translucent
Season with salt and pepper to taste
Add the tomato paste and flour and stir for about 3 to 4 minutes
Add the white wine and reduce, by half, about 2 minutes
Slowly add the cream, whisking well to remove any lumps
Add paprika, cayenne, and bay leaf
Bring the cream up to a simmer and turn the heat to low
Let reduce until the cream is thick and can coat a spoon, about 5 to 10 minutes
When thickened, remove the bay leaves
Stir in the grated cheeses a handful at a time, combining well after each addition
Add the chopped lobster meat to the sauce and stir well
Add the pasta and stir
Add to the greased baking dish and sprinkle with panko crumbs and parsley
Bake for 25 minutes
Remove from the oven and let it rest for 10 minutes before serving
Finish by sprinkling individual servings of parsley
Enjoy the yumminess!
Kids will be asking for second helpings and adults will be begging you to share your lobster mac and cheese recipe!
Trust us, you'll want the freshest lobster tails for this recipe. Look no further than Cape Porpoise Lobster Co. All US orders include free overnight shipping. Order your lobster online now or call 1-800–967-4268 to place your order!