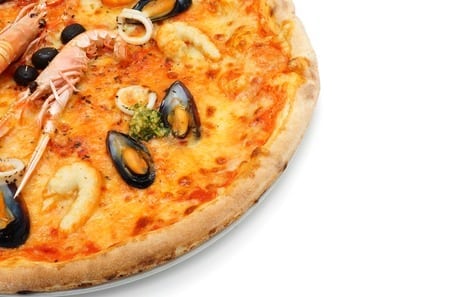 If you love lobster and casual dining, then lobster pizza is probably one of your favorite foods. If you've never tried it before, don't worry! Cape Porpoise Lobster Co. picked out our three favorite lobster pizza recipes for you to try at home. Check them out below, and make them for your next game day party.
Lobster Polenta Pizza
How Sweet Eats' Lobster Polenta Pizza is one of our favorites. Plus, if you have a gluten sensitivity, you'll still be able to enjoy a delicious pizza since the crust is made with naturally gluten-free polenta. You'll need:
1 box instant polenta
8 ounces mascarpone cheese
2 heads garlic, roasted
8 ounces fontina cheese, grated
1 tablespoon olive oil
2 tablespoons unsalted butter
2 to 4 lobster tails, raw and removed from shell
1 jar semi­ dried cherry tomatoes
Fresh basil leaves
Parmesan cheese, grated
Heat your oven to 425 degrees, and prepare the polenta by following the instructions on the box. Spread it into a thin layer on a non-stick baking sheet, and bake for 20 to 25 minutes until it's slightly crispy.
Add mascarpone, garlic, salt, and mash with a fork. In a large skillet over medium heat, add olive oil and butter. Add the lobster tails and cook until they are bright red. Chop them into smaller pieces once cooked. Spread the roasted garlic/mascarpone mixture on the polenta crust, add some fontina, and then the lobster and cherry tomatoes. Bake for 15 to 20 minutes until the cheese starts to bubble. Slice, and serve!
Brown Butter Lobster and Spinach Pizza (with Bacon & Fontina!)
Half Baked Harvest's recipe for brown butter lobster and spinach pizza will knock your socks off. It's a fresh twist on a classic flavor. Here's what you'll need:
The dough:
1 ½ cups flour
½ cup warm water
1 ½ teaspoons
1 tablespoon honey
¼ teaspoon salt
1 tablespoon olive oil
The toppings:
4 lobster tails, 2-3 ounces
4 slices bacon (thick)
2 cloves of garlic
1 small shallot, chopped
6 ounces spinach
3 tablespoons butter
2 tablespoons parsley
1 teaspoon dried oregano
¼ teaspoon crushed red pepper
¼ cup sun-dried tomatoes
4 ounces sharp white cheddar cheese, shredded
8 ounces fontina cheese, shredded
2 ounces freshly grated parmesan
Prepare the pizza dough, wither with a stand mixer or your hands and a wooden spoon. Preheat the oven to 375, and while the dough is rising, prep the toppings.
Boil about 6 cups of salted water, and add in the lobster tails. Simmer for 8 to 12 minutes, until the shells are bright red. Drain, remove the tails, chop the meat, and set aside.
Cook the bacon in a skillet, and set aside, saving about 1 tablespoon of bacon fat. Add the shallot and garlic to the skillet, cook for a minute, and then add the spinach. Remove all items, and then add the butter. Remove from heat, and add parsley, oregano and crushed pepper. Drizzle half over the lobster, and toss.
Spread the remaining brown butter onto the pizza dough, sprinkle with sun-dried tomatoes, and the spinach mixture. Top with cheese, lobster meat and the bacon. Bake for 20-25 minutes or until cheese is perfectly melted!
Lobster Alfredo Pizza
Yummly's lobster alfredo pizza is a rich and delicious option, perfect for the cooler fall and winter days!
Here's what you'll need:
1 pound lobster meat
1 pizza dough
½ cup olive oil
1 cup parmesan, grated
1 cup mozzarella, grated
1 clove garlic
1 small shallot, chopped
Salt
1 tablespoon basil,
¼ cup dry sherry
½ cup sun-dried tomatoes
Prep the dough. While it's rising, add chopped garlic, shallot, butter and herbs to a medium pan over low heat. Mix in cream, and grated parmesan. Add the sherry. Arrange the lobster on the pizza dough, and pour the Alfredo sauce over the meat. Cover with mozzarella, and bake at 375 until golden brown. Slice and enjoy!
Cape Porpoise Lobster Co. has all of the lobster you'll need for your pizza recipes. Shop now and call 1-900-967-4268 with any questions you may have!