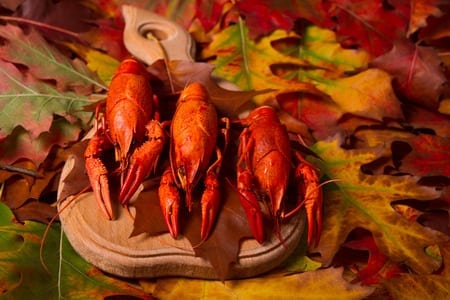 When you think of Thanksgiving food, you surely think of turkey, stuffing, mashed potatoes … but do you think of lobster? The Native American diet was heavy on shellfish, so lobster was most likely part of the first Thanksgiving dinner. Keep the tradition alive by incorporating your favorite crustacean into your Thanksgiving dinner!
Here are a few ideas to get you inspired:
Lobster mashed potatoes
Add the delicious taste of lobster to a classic holiday favorite with these easy-to-cook lobster mashed potatoes.
Ingredients:
1 stick of butter
10 potatoes
Dollop of sour cream
4-5 cups fresh peas
Small can of evaporated milk
Salt and pepper to taste
Directions:
Cook lobster.
Pick them clean and saute the lobster meat with butter until butter is orange. Add evaporated milk.
Cook potatoes and mash, adding sour cream as you mix.
Cook peas.
Serve mashed potatoes, topping with lobster and peas.
Recipe from lobsterfrommaine.com
Lobster, pumpkin and ricotta ravioli
Looking for a different take on lobster pasta? Why not make this lobster, pumpkin and ricotta ravioli, and find out what a match made in heaven lobster and pumpkin can be?
Ingredients: 
8 Tbsp. butter
1 cup milk
Pinch of nutmeg
Pinch of cayenne pepper
Salt and pepper to taste
1 cup ricotta cheese
4 Tbsp. mascarpone cheese
3 Tbsp. canned pumpkin
Fresh egg noodle lasagna sheets
2 Tbsp. melted butter (to seal ravioli)
Directions: 
Cook lobster and pick out meat.
Saute lobster meat with butter (about 4 minutes).
Add flour and milk, stirring over low heat until you have a sauce-y liquid.
Stir in ricotta cheese, mascarpone cheese and pumpkin.
Flavor with spices.
Cut egg noodle sheets into ravioli-size squares, adding lobster mixture to half.
Rub edges of squares with butter and top with another square, using a fork to seal them together.
Boil water and drop ravioli in, cooking for 5 minutes.
Recipe from maine-lylobster.com
Lobster and corn bisque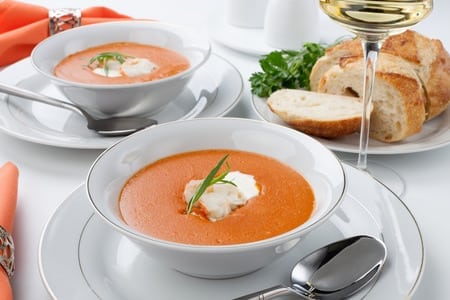 Start off your meal with a delicious lobster and corn bisque, which you can serve with a wedge of freshly baked cornbread.
Ingredients: 
3 Tbsp. vegetable oil
3 Tbsp. all-purpose flour
1/2 cup minced onions
1 cup corn kernels
2 Tbsp. minced shallots
2 Tbsp. minced celery
1 Tbsp. minced garlic
1 tsp. salt
1/2 tsp. cayenne pepper
1 cup fish stock
2 bay leaves
2 cups milk
2 cups heavy cream
1 tsp. crab boil
1/4 cup minced green onions
Directions: 
Heat oil in a large pot. Add flour 1 Tbsp. at a time, stirring 5-10 minutes until blended.
Add onions, corn, shallots, celery, garlic, salt and cayenne, stirring occasionally until the onions have softened.
Add bay leaves and bring to boil.
Add milk, cream, and crab boil, simmering for 30 minutes.
Stir in lobster meat and green onions, simmering for 5 minutes.
Ladle into bowls and serve.
Recipe from maine-lylobster.com
Lobster with nutmeg vinaigrette and chestnut puree
This recipe is sure to wow your guests with its sophistication. The best part? You can make the vinaigrette and puree the day before, so all you have to do on Thanksgiving Day is cook the lobster.
Instructions: 
2 cups chicken stock
2 cups apple cider
6 diced shallots
3 bay leaves
2 Tbsp. sherry vinegar
1/2 cup heavy cream
1 1/2 tsp. nutmeg
1 Tbsp. vegetable oil
1 chopped onion
30 oz. chestnuts
3 Tbsp. maple syrup
2 Tbsp. butter
1/2 cup sour cream
Salt and pepper to taste
4 chopped scallions
2 Tbsp. chopped parsley
1/4 lb. mixed salad greens
Directions: 
Combine 1 cup chicken stock with apple cider, shallots, bay leaves and sherry vinegar in a large saucepan, boiling 25 minutes (until reduced by half).
Add heavy cream and nutmeg, simmering about 5 minutes, then remove from heat.
Heat vegetable oil in a separate saucepan, adding onion and cooking until softened.
Add remaining chicken stock and chestnuts, simmering about 4 minutes.
Remove from heat, then add maple syrup and butter.
Transfer contents to blender and puree until smooth.
Blend in sour cream, then transfer to saucepan, cover and keep warm.
Reheat nutmeg vinaigrette, adding scallions, parsley, salt and pepper.
Cut lobster tail meat into chunks, then add back into tail.
Spoon vinaigrette over lobster tails and place on platter with puree.
Recipe from foodandwine.com
---
Wondering what wine to pair with your lobster dish? Champagne is a natural pairing for lobster, and will get your meal off to a festive start. Cheers!
Ready to plan your Thanksgiving menu? Cape Porpoise Lobster Co. has high-quality lobster for all of your Thanksgiving recipes. We offer free overnight shipping with all orders of our lobster and other seafood products. Call 1-800-967-4268 to order your Thanksgiving lobster today!