When it comes to making a meal from crab meat, crab cakes seem to reign supreme as the most popular dish to serve. But since we here at Cape Porpoise Lobster Co. love to experiment with unique new ways of enjoying our favorite flavors from the ocean, we have found plenty of other ways to cook this crustacean.
From crab dip to crab salad here is just a small sample of the dishes you can make with a few pounds of crab meat.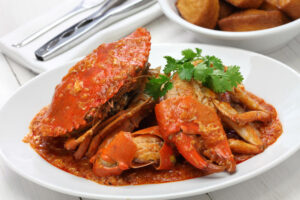 Crab & Artichoke Dip
Add a little something extra to your classic artichoke dip recipe by adding some crab meat to the mix. Cheesy and golden brown, this appetizer can be paired with sourdough bread, baguette slices or crackers.
Crab Stuffed Salmon
A mouthwatering combination of two gourmet seafood options, this crab stuffed salmon recipe is the perfect entrée for your next dinner party. So flavorful that your guests will think you put hours of work into this dish, all that it really requires is the addition of some simple seasonings and 20 minutes in the oven.
Crab Rangoons
A crispy wonton appetizer that individuals of all ages will enjoy dipping in soy sauce and sweet & sour sauce, crab rangoons are a party pleaser that take just a half an hour to whip up. Fill wonton wrappers with the savory mixture of crab meat, cream cheese, garlic and onion, then pinch the edges closed. All that is left to do is fry up the wontons in a dutch oven and you have an appetizer guests will be begging you to make again.
Crab Spaghetti
Much fancier than its name suggests, crab spaghetti is a simple yet satisfying way to enjoy a crab meat dinner with your family. Instead coving the crab meat flavor with a tomato sauce, FoodieCrush.com recommends making a lemon gremolata to top off this indulgent pasta dish.
Golden Papaya & Crab Salad
This papaya and crab salad is a fresh, healthy dinner dish that we can picture ourselves enjoying outside on a balmy summer day. With sugar snap peas, red onions, papaya and lime, this is a healthy and fun alternative to traditional crab meat dishes.
With so many delicious and unique new ways to incorporate crab into your dinner plans, all that is left to do is order your fresh Maine rock crab meat from Cape Porpoise Lobster Co. and get cooking. With overnight shipping included with all purchases, you can enjoy one of these mouthwatering recipes as early as tomorrow!