Summer is almost here and now is the perfect time to plan your backyard parties! Hosting a party in your backyard is a great way to socialize with friends and enjoy your own yard.
Prepare an authentic seafood boil for your party guests with this easy recipe! Before you get started, first gather all your ingredients: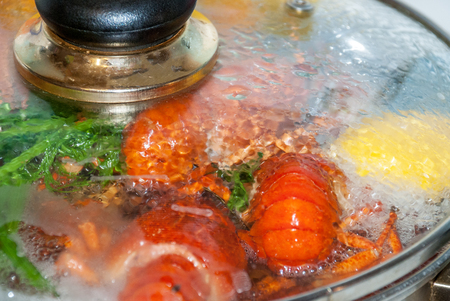 50 Shrimp
5 lbs. Red potatoes
4 ears of Fresh Corn
4 Lemons
4 Garlic Cloves
2 lbs. Kielbasa sausage
Fresh Parsley
Olive Oil
½ lb Butter
Seasonings
Salt
Pepper
Cayenne pepper
Old Bay
Once you have gathered all your ingredients you can start preparing the boil.
First, mince the parsley, then cut the potatoes and lemons in half. Then shuck the corn.
In a large pot, cook sausages on medium-high for about 5 minutes or until the outsides get crispy and brown. Take the sausages out and set them aside.
Next, in that same large pot, bring 6 quarts of water to a boil. Add garlic, lemon, and seasonings. Seasoning can be added to taste, just make sure that you add enough to give the boil a bold flavorful taste.
Once the water has reached a rolling boil, use tongs to add your potatoes. Allow your potatoes to boil for 4 minutes before adding your lobster tails one at a time. Next, add the shucked corn. You can cut them in half or leave them whole. Lastly, add the shrimp and put the sausages back in. Allow the shrimp to cook for 4 minutes.
Turn the heat off.
Put a top on the pot and allow the boil to marinate. While the boil is marinating, melt two sticks of butter in a pan on medium-low heat. Add parsley, pepper, and salt – to taste, for a flavorful dipping sauce.
Once the butter is completely melted put the butter in a small bowl that can easily be used for dipping.
Now you are ready to serve!
You can either strain the water out of your pot and put your seafood boil on a large serving platter, or place newspaper on your table and spread the food out directly on the paper. You can place any additional seasonings on the table next to the dipping sauce. Now it's time to dig in!
Enjoy the company of your friends and family over a delicious seafood boil prepared with fresh Maine lobster tails from Cape Porpoise Lobster Co. Cape Porpoise Lobster Co has been committed to providing the freshest certified Maine lobsters and seafood for over 40 years. We offer free overnight delivery via FedEx Overnight Air to ensure that your lobster stays as fresh as possible. Purchase your fresh Maine lobster tails today!