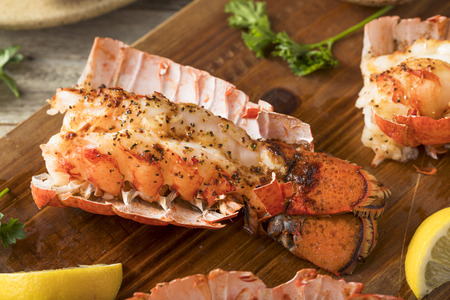 There are many different options when it comes to cooking fresh Maine lobster tails. Regardless of which way you plan to prepare your lobster feast, the first step is thawing this delicate crustacean. To ensure the best flavor and texture, it is important that your lobster reach room temperature before cooking begins.
Start your meal preparation by placing your frozen lobster tails in a covered bowl, leaving them in the refrigerator overnight.
It will take between 12 and 24 hours for them to thaw completely, and once thawed you will want to take them out of the refrigerator 30 minutes to an hour before cooking. This will allow your lobster tails to reach room temperature, perfect for cooking.
It is important to be sure your lobster tails are fully thawed before you begin cooking them, so the meat does not get stuck to the inside of the shell. This will be a clear indicator that the lobster tails weren't prepared properly.  Here we have outlined how to prepare lobster tails in a variety of ways and included awesome recipes for you to try.

Now that you're ready to start cooking, here are a couple of our favorite ways to prepare your lobster tails:
Broiled Lobster Tails
Ingredients
1/2cupsalted buttermelted
1teaspoonminced garlic
1/4teaspoonsalt
1/4teaspoonblack pepper
1largelemoncut into wedges
Instructions
Turn on the broiler setting in your oven and let it preheat.
Use kitchen shears or a sharp knife to slice open the lobster tail lengthwise to expose the meat inside. Place on a small, ungreased baking sheet.
In a small bowl, whisk together melted butter, garlic, salt, and pepper. Drizzle over lobster exposed lobster meat.
Place baking sheet 6 inches beneath broiler and let broil until the meat is no longer translucent, 5 to 10 minutes. Watch closely. Serve immediately with lemon wedges. Squeeze juice over lobster meat just before eating.
Recipe from The Stay At Home Chef
Lemon-Butter Boiled Lobster Tails Recipe Instructions
Ingredients
1 lb salted butter (4 sticks) for boiling
1/4 lb salted butter (1 stick) for clarified butter
Juice of 1/2 lemon
Directions for preparing and cooking the lobster tails
If the lobster tails are frozen, you must first defrost them completely in your refrigerator. Typically it takes about 1 day, depending on your refrigerator settings.
Remove the lobster tails from refrigerator and allow them to come to room temperature on the counter.
Using a chef's scissor, cut the top of the shell down the middle starting from the open meat end until you reach the tail but do not cut into the tail. Be careful to not cut deep into meat of the lobster tail.
Pull the cut shell apart to then lift out the tail meat.
Look at the top center of the lobster tail meat for a dark vein running down the tail.  If you find one, carefully remove it with a pairing knife.
Find the smallest pot you have that will fit the lobster tails.  Add enough water, the 4 sticks of butter, and the lemon juice such that it will just cover the lobster tails, but don't put the lobster tails in the water yet. First bring the water to a boil. After the water is boiling, add the lobster tails. Continue boiling for 6 minutes and then remove the lobster tails, set on a paper towel to remove excess water and then plate.  Do not over cook the lobster tails as they will get hard and rubbery.
Recipe from Gourmet Food Store
Grilled Lobster Tails
Ingredients
1/4 c. melted butter
1 tbsp. lemon juice
1/2 tsp. lemon zest
2 tbsp. freshly chopped chives, plus more for garnish
2 tbsp. freshly chopped parsley, plus more for garnish
1 clove garlic, minced
1/4 tsp. kosher salt, plus more for seasoning
Extra-virgin olive oil, for brushing
Freshly ground black pepper
Pinch of crushed red pepper flakes
Lemon wedges, for serving
Directions
Preheat a grill or grill pan over medium heat. In a small bowl, whisk together melted butter, lemon juice, zest, chives, parsley, garlic, and salt.
Using kitchen shears, cut top of lobster shell from the meaty portion of tail. Using a knife, cut halfway through meat down the center, without cutting all the way through. Insert a skewer lengthwise through the lobster to keep lobster from curling up when cooked.
Brush all over with oil and season with salt and pepper. Grill flesh side down until lightly charred, about 6 minutes. Flip lobster and dollop a spoonful of butter mixture on flesh side. Grill until just cooked through, about 5 minutes more.
Remove lobster from grill and sprinkle with red pepper flakes. Serve with lemon wedges.
Recipe from Delish
Cape Porpoise is your source for fresh Maine seafood! Shop our Maine Lobster Tails now!