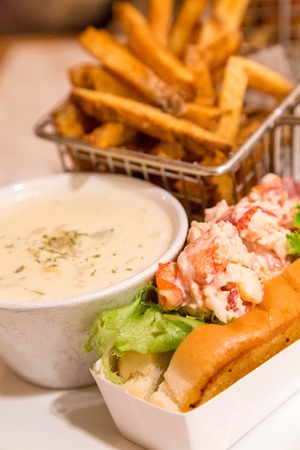 Maine Lobster Roll
Ingredients
• 1/2 pound cooked lobster meat
• 1/2 a cucumber, peeled and diced
• 1/4 cup mayonnaise
• 1/2 tablespoon tarragon
• 2 sliced scallions
• 3 hot dog buns
• 2 tablespoons unsalted butter
• Sea salt & ground pepper
Directions
• Chop cooked lobster meat.
• Combine lobster with scallions, cucumber, mayonnaise and tarragon.
• Season with salt and pepper.
• Chill 30-60 minutes.
• Preheat skillet over medium-low heat.
• Lightly butter both sides of each bun.
• Cook buns in skillet 2 minutes, each side, until golden brown.
• Stuff buns with chilled lobster salad.
• Serve.
Try our Maine lobster roll kit today